African Journey - Part 1
Mauritania, Senegal and The Gambia
Africa is almost as wide from east to west as it is long from north to south. It is a vast continent of contrasts with a wide array of peoples, cultures and religions. For more than 20 years TGS has supplied vehicles for use across the continent and we wanted to take an opportunity to showcase all that TGS can offer by taking a virtual expedition through many of the countries where our customers operate and where our vehicles are put to use.
We start our virtual African venture in Nouakchott, Mauritania. Only 12 sailing days from the Spanish port of Algeciras, it offers beautiful yet inhospitable landscapes of desert and rock. Moving south, sometimes tarmac roads will be replaced by "pistes" which are sandy tracks. The terrain also begins to change from beige desert to green vegetation.
---
---
For this first leg of the journey we have selected the Toyota Land Cruiser 200 series. This is the King of 4WD models and renowned all over the world for its durability and comfort in the toughest of conditions. This model combines perfectly the sometimes competing needs of off-road capability and on-road refinement. This is a top of the range model which doesn't mind getting its hands dirty. The LC200 carries the DNA that can be traced back to the earliest Toyota 4x4's. In our vehicle we can carry eight passengers in comfort. We have selected the eight cylinder diesel engine linked to the 4x4 drivetrain by a six speed automatic transmission. The LC200 comes with an impressive 138L fuel capacity ideal for long distance travel.
---
We also have 720kg of additional payload to carry the equipment we need for the trip, including the TGS Vehicle Emergency Package in case we, or other road users, need assistance.
---
---
To help us cope with the conditions we will experience in an environment like Mauritania we have selected options from the TGS range.
In our vehicle we are carrying a set of sand tracks to help us get out of tricky situations and these come with the Recovery Package we have added to the vehicle. The package brings together items that TGS customers have suggested work best if a vehicle needs to self-recover or assist in a third party recovery. The kit contains a Warn Tabor 10S electric winch located inside a steel bull bar along with Front and Rear Recovery Points. To complement the winch we have a Winch Recovery Accessories Bag containing: One 8,000kg recovery strap, two 4,750kg bow shackles, one recovery strap extension, one tree trunk protector, one snatch block, one cable damper and a pair of leather gloves. The sand tracks and Folding Shovel complete our preparations for the sandy conditions of Mauritania.
---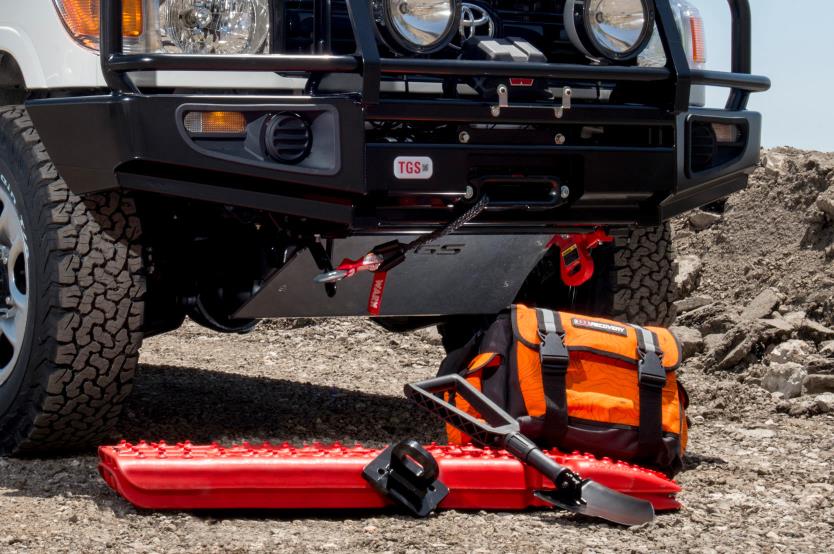 ---
Senegal is the next country in our trek and one where many of our longest-standing customers operate. As we travel across the country we are reminded of the training events TGS has presented in Senegal. The TGS training team are always in demand and the courses are designed to cover road safety for the vehicle driver and passenger as well as other road users. The TGS trainers can deliver courses in several languages.
---
Our LC200 has double fuel tanks. However, for customers who have limited access to fuel (and water) TGS can supply Jerry cans and custom-made carriers to keep the contents safely secured.
---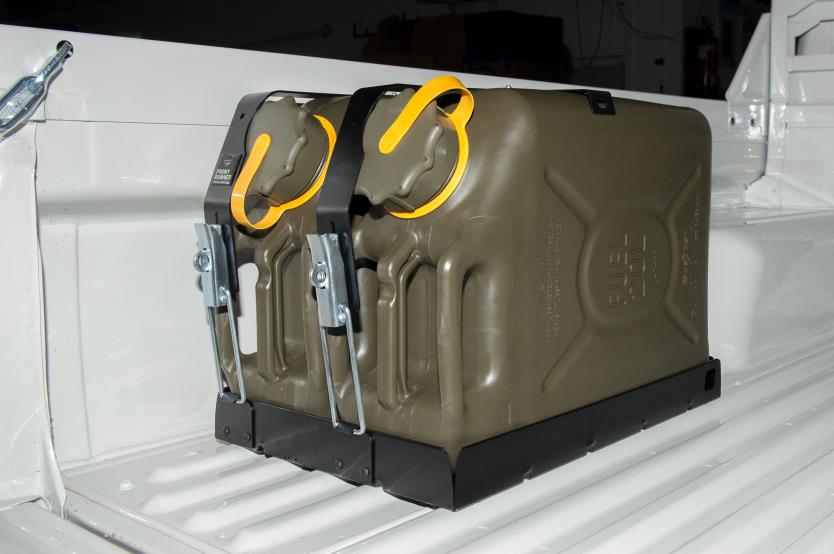 ---
Then further south and into The Gambia which is the smallest African country and literally surrounded by Senegal. In every country we will visit during this virtual tour Toyota will be represented by local distributors and dealers and it is important to note that only these official outlets offer genuine spare parts which you can be sure carry the Toyota seal of approval. When purchasing vehicles through TGS, be sure to consider the availability of genuine spare parts where the vehicles will be deployed. If locations are remote or parts supply is known to be unreliable, one of the services offered by TGS is the provision of Spare Parts Packages which can be shipped to customers inside the vehicle thus saving on sometimes significant freight charges.
---
---
The first leg of our African Journey has come to a close. The next section sees us cross Guinea Bissau - Guinea - Sierra Leone where we will encounter muddy conditions and we will be using the Land Cruiser 76 series.
---